Tree Services
At Tree Tech, we're proud to be the tree service company that Mooresville and Huntersville trust. Our clients know that they'll get quality work at a great price from certified arborists. Looking to keep your trees healthy with trimming and pruning? Need tree removal to keep your family safe? Call today!
As tree service professionals, we do everything we can to preserve the health and life of your tree. But sometimes, tree removal is the only viable option. Your safety and your property is our highest priority, and if your tree is deemed a hazard, our team can remove it safely and efficiently.
Tree Tech will first assess the situation and see if your tree can be treated or trimmed instead of removed. If removal is the only option, our trained and professional staff will get to work. From technical rigging to crane work to felling, we do it all.
Tree trimming and pruning is one of the most common tree services available. Pruning attends to both the health and the appearance of the tree, promoting both longevity and aesthetics in the process. Our tree trimming professionals take the time to understand how each individual tree will respond to each cut, minimizing damage and maximizing tree health. All pruning is completed to ANSI A300 specifications.
This system is used to avoid failure of weak branch unions, and to maintain structural integrity of trees with narrow angle unions, also to avoid excess movement resulting in failures or to secure horizontal branches subject to heavy loading.
PLANT HEALTH CARE
PHC is defined as a process of scheduled preventative maintenance based on monitoring and the use of cultural and chemical tactics to enhance tree vitality. The plant and its requirements become the central focus of our activities, rather than responding to symptoms caused by pest presence, physical agents, or nutritional deficiencies. A plant health care practice addresses the basic causes of the reduction in plant health and provides corrective measures to promote plant health.
Crown reduction pruning is most often used when a tree has grown too large for its permitted space. This method is preferred to topping because it results in a more natural appearance, increases the time before pruning is needed again and minimizes stress.
STUMP GRINDING
At Tree Tech we provide stump grinding services so you don't have to worry about that unsightly stump after having your tree removed. Our professional crew has the knowledge and tools necessary to get the job done right the first time.
BRUSH CHIPPING SERVICE
We provide an hourly rate for chipping service.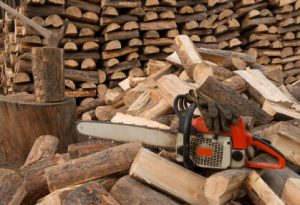 Seasoned hardwood, call for pricing and information.
CHIPS
We provide our chips upon request delivered at no cost. Call for details!
SHRUB AND ORNAMENTAL TREE PRUNING AND REMOVAL
Proper tree and shrub trimming is about maintaining good tree health and aesthetics. Most landscape trees require more maintenance. Proper pruning will enhance the beauty of your landscape and compliment the other shrubs, plantings and the lawn area on your property.
LEAF CLEAN UP
Spring and fall clean ups available, call for pricing.
LOT CLEARING
Tree Tech provides land clearing services for both residential and commercial purposes. Land clearing is often used to expand yards or outdoor living spaces or clear lots for building. We offer efficient removal of trees and brush and control undesirable vegetation like vines, thorns and other nuisance vegetation – whether it's along roadsides or encroaching trees along fields.
TREE ASSESSMENTS AND SITE EVALUATIONS
Tree Tech offers full service, ISA certified arborist tree services. Our arborists are trained in the art and science of tree care and dedicated to the long term health of your trees and shrubs. Arborists can assess a plant's health and provide a range of tree & shrub care services that can improve your landscape's vitality. Evaluating site conditions that affect plant health is also a part of our service. Having your trees and shrubs inspected by a certified arborist will help prevent problems from occurring and keep your plants in good health. Preventative maintenance helps trees defend themselves against insects, disease, and site problems. Arborists are tree experts that can provide a range of professional tree services including pruning, trimming, and tree removal.
VIEW ENHANCEMENTS
We use proper pruning techniques to enhance views and increase light without compromising the health and beauty of your trees.
PLANTING
Tree and Shrub planting available, call for pricing.
LIGHTNING PROTECTION
Tree Tech offers lightning protection systems that can minimize the risk of damage from a strike. These systems use copper conductors connected to a ground rod to reduce tree damage and conduct the electrical charge to the earth where the energy is dispersed.
FERTILIZATION
Like watering, when it comes to fertilizing trees, newer trees see more benefits more quickly. Fertilizing trees has a number of benefits that go beyond growth. This basic tree maintenance procedure can help your trees stay more resistant to insects and disease, while improving flowering.